Old Dollar Bill | The Official Website
Alternative Country & Bluegrass


---
news

---
Friday March 4th, 2016:
Old Dollar Bill Present 'Bluegrass Meets.... Hotter Than Hell Tatoo'


The fourth instalment of our 'Bluegrass Meets...' Youtube series!
This time around we had the pleasure of playing at our good friend and superb tattoo artist
Mr Jeff Kohl's new studio Hotter than Hell Tattoo situated in Edinburgh!
As you will see we had a fantastic evening playing for Jeff and his invited friends/audience
who have all been patrons of his establishment. What a great crowd, the mini bar was overflowing, the banter was great,
Jeff was on top form during our performance and also throughout the interview segment he graciously allowed to record
(he really didnt want to do it).
There are also a couple of little surprises popping up in this episode
including 2 new ODB originals and a very special inking session.

---
Saturday August 1st, 2015:
Old Dollar Bill ....A DVD....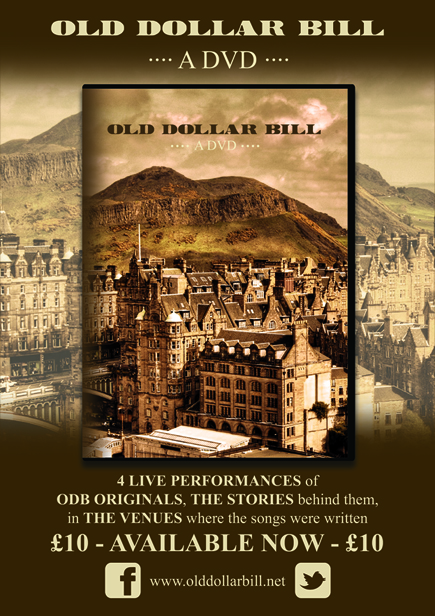 Hey Y'all,
More than happy to announce the release of our first official DVD!
Featuring 4 live performances of ODB originals:
Tables For You
Move On
My Love She Did Wear A Disguise
One More Shot To Kill The Pain
We have used the live performance footage from our youtube stream released in april (2015)
by 7ahead music and added filmed segments and chat in each of the venues where the songs were written:
Whiski
Rabbie Burns
The Reverie
Bannermans
The DVD features our new bass player John (Fingers) Farrell...welcome Sir!
Copies can be purchased at each live performanceand from our official online store for £10:
Click Here
Enjoy!
Old Dollar Bill

---
Friday April 17th, 2015:
An Online Invitation
You are cordially invited to link into our first live world wide youtube streaming performance,
taking place in Edinburgh on Thursday (April 23rd) at 7.30pm prompt!!!!
Be sure to check your time difference if outside the UK - (EG. France) + 1 hour ahead
For detailed information check out the 7aheadmusic page link below.
Click Here
The event will last for exactly 30 minutes and we will be playing 4 original songs and being interviewed.
We are really looking forward to this and hope you enjoy the show.
Hope you can all tune in - lights, camera, sound, action!!!
Old Dollar Bill

---
Monday February 2nd, 2015:
Unleashed Now - The first Official & Exclusive Old Dollar Bill T-Shirt by JFK!!!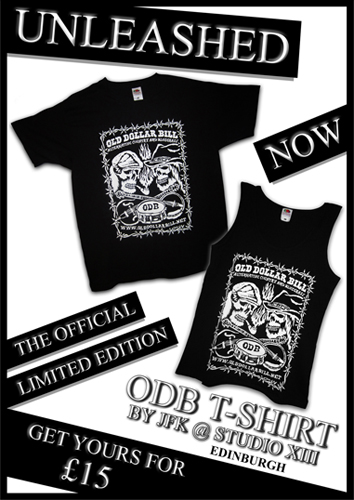 Designed by our good friend and well renowned Edinburgh based Tattoo Artist Jeff Kohl
(head honcho and all around good guy) at Studio XIII Gallery, Edinburgh.

Available in the following styles and sizes:
GENTS T-Shirt: 
Large 
X Large

LADIES Vest style T-Shirt: 
Medium = 12 
Large = 14 
X Large = 16

A sample of each T-Shirt can be seen at ODB gigs 
and available to buy online from the official ODB Store: 
Click Here to visit now

*ATTENTION - This is a limited edition offer!! 
so....order now to avoid disappointment*
and looking forward to seeing y'all wearing them at gigs

Thanks guys 

---
Monday December 1st, 2014: Welcome to the newly re-designed Website
Yes folks,
Old Dollar Bill.net has been re-designed,
its now easier to navigate so why not have a look around.
---
To view past news Click Here to visit our news archive